Receive ¥200 discount by making your payment in advance! Make your check in a quick one.
We recommend "online credit card payment".
Benefit of online credit card payment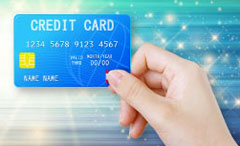 You no longer need to make your payment at a reception. Speedy check-in has now become possible. (*1)
¥200 discount just by paying online (*2)
No matter how late you come in, you don't need to contact the hotel. (*3)
Now with online receipt display service, you can print out your receipt directly from the official site. (*4)
Notice
You may be asked to pay either local or city tax at a mandatory hotel.
There will be a discount of ¥200. Please check out the webpage "official website discount" for more information.In addition, discounts may not be applied when booking a campaign or plan.
Please inform us of any cancellation, if you are not going to be arriving.
For room reservation of consecutive nights, if the first night gets cancelled without any contact, the rooms from the second night will all be cancelled.
Display service of your online receipt is a screen display of receipt data that is held electronically.
In terms of proof of receipt contents, it is not different from the conventional receipt however, it is not an object of stamp taxation even if it is printed because it is part of an electronic document. Please make sure that you can check whether the form printed with the web display can be used for accounting and settlement before using.
You can set this service on the management page. See Q&A for the setting method.