39, Seojeon-ro, Busanjin-gu, Busan 47247 South Korea
TEL:

+82-(0)051-638-1045
FAX:

+82-(0)051-638-1046
Message from manager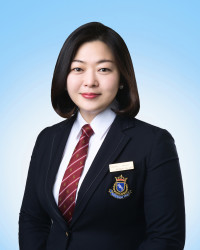 <ahref="#notice" class="bold">★The room rate will be change★
The room rate will be raised as of January 1st next year (2023).
Please check the detailed price on the reservation page and make sure to use it.
Thank you.

★Ends and changes as of September 30★
We will inform you of the changes that will be completed on September 30th.

▶ Change of Midnight Service Hours and Amounts.
Time: 22:00 -> 23:00
Price: Single KRW 39,000 -> KRW 45,000
*There is no change in the price for mini-double, double and twin rooms.

▶ Student discount event is over.

▶ Membership Late Checkout (11:00) Event is over.

▶Changed breakfast time.
Weekdays and weekends will be changed from 6:30 to 9:00 as well.

The above will be closed and changed as of September 30th and will apply from October 1st.
Please understand the above information and do not have any inconvenience.

★Non-smoking rooms only★
From May 1st, all our rooms will be changed to non-smoking rooms. Guests who smoke, please use designated smoking area on the first floor.

★Welcome discount service★
On the day of the event, you will receive a 10% discount as soon as you become a member.
It's easy at the front desk!

★Business single room★
Please check BUSINESS SINGLE ROOM, limited in number at discounted price!
For further details, please refer to the hotel information.

★Midnight Time Service★
It is a service that can be used by customers without reservations in the remaining rooms from 11 pm!
Please contact us before you come, as the remaining rooms are different every day.


★[[Special Double/Deluxe Double]★
A combination of a bedroom and a living room! Please use a special room.

★[[WEEKLY/MONTHLY PRICE]★
Planning a business trip or living for a month in another city? Take advantage of this special offer.
For more information, please feel free to contact us.

★Office and Study room for Day time★
Are you looking for a Private office or Private study room during this pandemic period?
We are offering Office and Study room & Day use room which is for who need private office or study room during daytime (8:00-23:00)
For more information, please refer to the hotel news and room pictures.

★Connecting Room-Toyoko-inn Seomyeon ONLY!★
'Connecting Room' has two separate rooms connected with inside door. When you travel with our family and friends, you can use two rooms as one space. If you are looking for a multiple room for a reasonable price, our 'connecting room' can be a perfect choice!


If you have any inquiry, please feel free to contact us.

Thank you. Manager Eunkyung Lee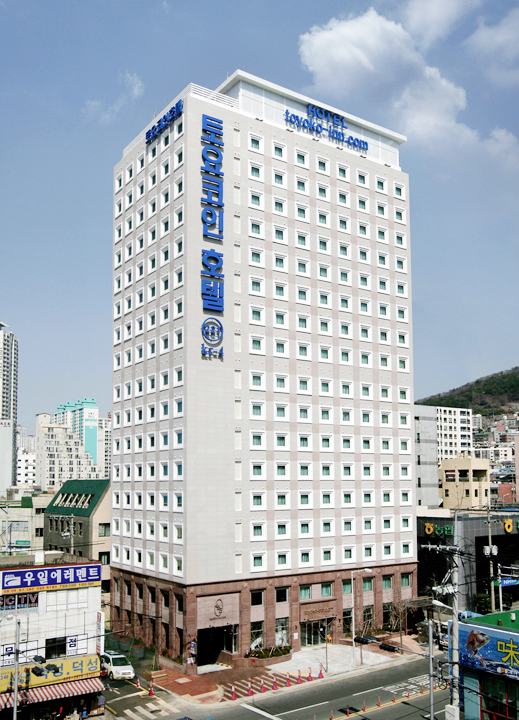 Hotel Information
Address
39, Seojeon-ro, Busanjin-gu, Busan 47247 South Korea

Check-in/
Check-out
Check-in Time:16:00
Check-out Time:10:00
Free Breakfast
FREE
06:30~09:00
Tel/Fax
TEL:+82-(0)051-638-1045
FAX:+82-(0)051-638-1046
Acceptable
Payment Methods
(On-site payment)

Acceptable
Credit Cards
(Online credit card payment)

-
Map・Access
Access

Access from the station (train)

10 min walk from Seomyeon Station No.10 Exit on Subway Line No.1 No.2


Access from the airport

30 min by car from Gimhae International Airport


Detail

10 minutes by subway from KTX Busan Station
25-30 minutes by taxi from Gimhae Airport
30-50 minutes by Gimhae Airport limousine bus (depending on congestion)

Go straight from Exit 8 of Seomyeon Subway Station.
Or 7-10 minutes walk from Exit 10 (with escalator).
(*If you need an elevator, please go to Exit 12 of Seomyeon Station on Line 1).

Parking

46spots available First-come-first-served basis
Hotel guests free of charge
1night(16:00-10:00)
Parking lot: 46cars Car length5.05m Car width2.05m Vehicle heigh1.55m Car weight1.85t

★ 46 units (2 for handicap and 3 for compact car)

★ If it is full, we can introduce the nearby pay parking lot.

★ Parking lot is not available for buses or large vans.
Information from the hotel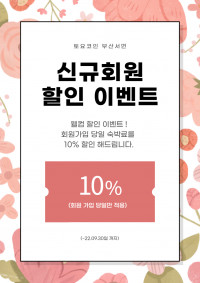 If you join the membership, you will get a 10% discount on your room charge for a night!!

* Membership benefits *
1-night free voucher for every 10 nights!!!
5% discount and easy check-in!
Early check-in (15:00~) and Late check-out(~11:00)

(Until 22.09.30)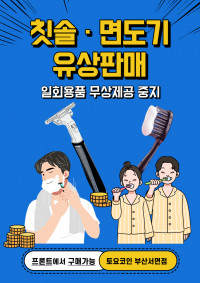 ★ Razor, Toothbrush set is sold for a fee ★
Along with the global environmental protection movement, the use of plastic is becoming a problem.

Since January 01, 2022, the free provision of razors and disposable toothbrushes will be suspended under the Environmental Protection Act.

Please bring your own toiletries.

Thank you for your understanding

* Razor & Toothbrush sets can be purchased at the front desk. Please contact the front desk.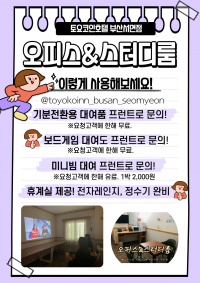 ● Office & Study Room

Are you looking for a Private office or Private study room during this pandemic period?
We are offering Office and Study room & Day use room which is for who need private office or study room during daytime (8:00-23:00)
As a private office, quiet study room!

'DAYUSE' which is exposed at the top of the room type, is a day time program (8:00-23:00) applicable for Office rooms (2 person maximum) and single rooms (1 person only) with 39,000 won.

If you are uncomfortable with office sharing in pandemic period, it's going to be a perfect choice. In office room, there is a sofa bed you can take a rest, and you also can share a small lounge which is equipped with a water purifier, microwave for free.

Website discounts and membership discounts are applicable (39,000 won → 34,200 won)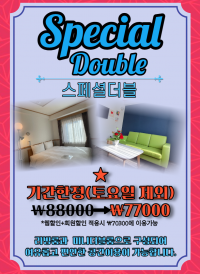 ● Special double room
We newly opened special double room which has a mini-double bed room and a living room with sofa and table. You can use it as an event room on your special day with your family and friends.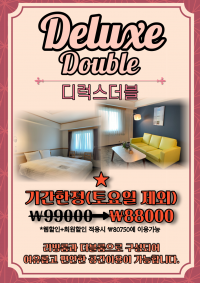 ● Deluxe double room
We newly opened deluxe double room which has a double bed room and a living room with sofa and table. You can use it as an event room on your special day with your family and friends.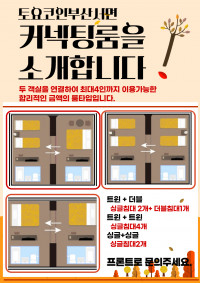 CONNECTING ROOM is a room type in which two rooms are connected as one, available for up to 4 people at a reasonable price.

CSK (Connecting Single) = Single+Single
CWK (Connecting Double) = Double+Twin
CTK (Connecting Twin) = Twin + Twin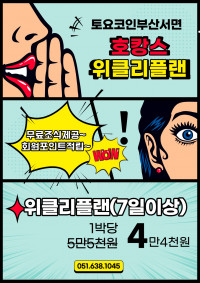 ● Weekly Plan

If you stay for more than 7 days,
★★★★★ You can get a 20%!!★★★★★

◁ 44,000 won for single room (breakfast included)
Please take the chance to stay in the center of Busan at the reasonable price

If you have any question, please contact us!
Thank you.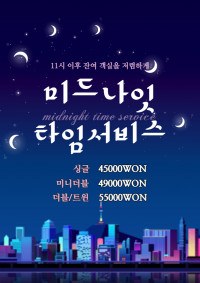 Midnight discounts will be applied from 11 p.m.
Single 45,000 won
Mini-double 49,000 won
Double 55,000 won
Twin 55,000 won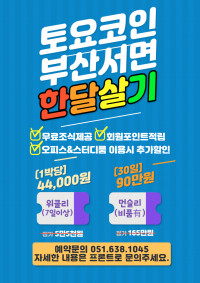 ●Monthly Plan (long stay)

Let's live in Busan for a month!
for customers who are looking for a place for long stay,
We are offering you various type of long stay rooms with reasonable price!
( breakfast included)
How about Having a great time in the center of Busan?

For more information, please contact us.
Thank you.